David Francis Urrows, François Ravary SJ and a Sino-European Musical Culture in Nineteenth- Century Shanghai
Cambridge Scholars Publishing, 2023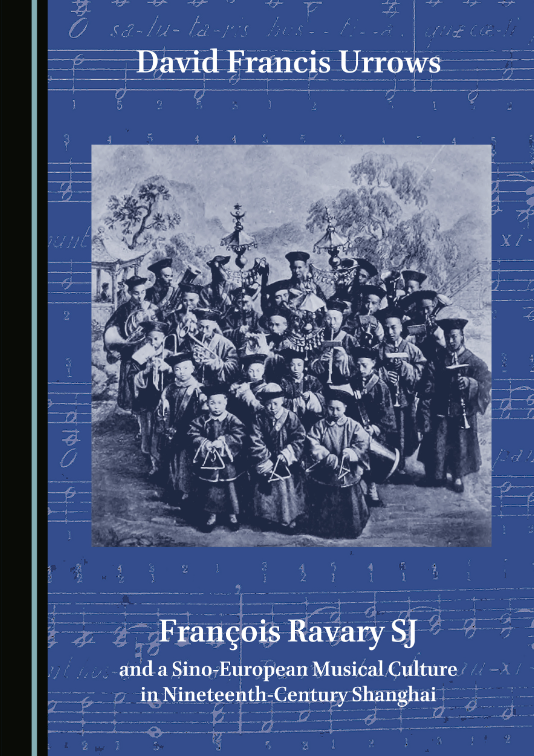 David Francis Urrows is a historical musicologist and composer. Between 1989 and 2018, he taught at Hong Kong Baptist University, where he established the Pipe Organ in China Project (www.organcn.org). He has also served on the faculties of the University of Massachusetts, the Hong Kong Academy for Performing Arts, and Eastern Mediterranean University, Cyprus. The editor of the critical edition of the music of Otto Dresel (1826–1890), he has also published on topics ranging from Hildegard of Bingen to Andrew Lloyd Webber. In addition, he is the author of several books, including Keys to the Kingdom: A History of the Pipe Organ in China (2017), and editor of several volumes in the Word and Music Studies series.
This book reveals the story of François Ravary, Jesuit missionary, musician, and organ builder. The mastermind behind the construction of the bamboo organs of nineteenth-century Shanghai, Ravary's unpublished letters from China present a vivid picture of the excitement and crises surrounding the Roman Catholic mission in the often-violent integration of global space of this time. Focusing on an individual life, this study adds needed perspective to histories of the treaty-port era. By shifting the inquiry towards a nuanced, empirical, and refocused evaluation of the landscape, Ravary is revealed as a humanist in the Christian tradition, curious about Chinese society and culture, as well as the force behind China's first brass band, first school orchestra, and other landmarks of Sino-European musical convergence. This book is a must-read for anyone interested in nineteenth-century China studies, cultural histories, and the diffusion of Western art practices.
"Professor Urrows' in-depth analysis of the life and works of François Ravary offers an important and nuanced addition to study of the Jesuits in the Jiangnan area in the second half of the nineteenth century. We discover a French missionary-musician and educator behind several musical firsts in the China of his time, and not only of the bamboo organs. Father Ravary was also one of the early advocates for the Catholic Church in China to become truly indigenous. This study is a welcome addition to publications in this research area, including Antonio De Caro's recent study of Angelo Zottoli SJ, Ravary's contemporary in Shanghai."
Jean-Paul Wiest
Director of Research, Beijing Center for Chinese Studies (2003-11)
"This important book provides an intriguing glimpse of the musical culture of the Jesuits in nineteenth-century Shanghai, including the context for construction of the landmark bamboo organs. The letters of François Ravary, beautifully translated, presented, and annotated by Urrows, give details of notable musical firsts in China—confirmed by photographic evidence—including the first brass band and the first publicly-performing Western orchestra, all brought to life with fine organization and insight."
Alexander Meszler
Syracuse University; General Editor, Encyclopedia of the Organ
"David Francis Urrows has spent decades researching music and mission in China, and through his intensive archival research has made discoveries one after another. A history truly fascinating to read."
Cindy Yik-yi Chu
Professor of History, Hong Kong Baptist University; author of Catholicism in China, 1900–Present
https://www.cambridgescholars.com/product/978-1-5275-7461-8