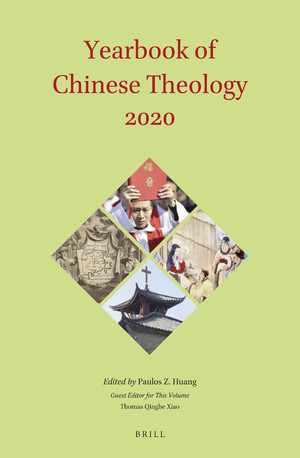 Yearbook of Chinese Theology, volume 6, 2020
Editor-in-chief: Paulos Z. Huang (Shanghai University)
Guest Editor of this volume: Thomas Qinghe Xiao (Shanghai University)
The 
Yearbook of Chinese Theology
 is an international, ecumenical and fully peer-reviewed annual that covers Chinese Christianity in the areas of Biblical Studies, Church History, Systematic Theology, Practical Theology, and Comparative Religions. It offers genuine Chinese theological research previously unavailable in English, by top scholars in the study of Christianity in China.
The 2020 volume highlights the five-disciplines of Sino-Western Studies and its guest editor is Thomas Qinghe Xiao. Further contributors are: Paulos Huang, Jianming Chen, Jiangbo Huang, Shangyang Sun and Ding Li, Qiuling Li, Gong Liang, Grace Hui Liang, Anwu Lin, Chunjie Lin, Fenglin Xu, Hao Yuan and Xuanyi Zhou.
Publisher ISBN:

978-90-04-44360-0
出版日期:

23 Dec 2020
Paulos Huang, Ph.D. (1996, Univ. of Helsinki) & Th.D. (2006, Univ. of Helsinki), Post-Doctor (2000, Univ. of Tokyo), is Distinguished Professor at Center for Finnish and Baltic Sea Civilizations in Shanghai University, and Chief editor of International Journal of Sino-Western Studies, and Guest Professor in over ten universities in China. He is the author of Confronting Confucian Understanding of Christian Doctrine of Salvation (Brill, 2009), and Chinese academic monographies on Sino-Christian Academic Theology, Biblical Theology, Dialogical Theology between Christianity and Chinese Culture, the Da Guoxue (National Studies). Presently Paulos is concentrating on the study of Martin Luther and translating his ten works into Chinese.
Thomas Qinghe Xiao, Professor and Director, Center for the Study of Religion and Chinese Society, Department of History, Shanghai University.
Contents
Illustrations
List of Contributors
Introduction: The Dialogue between Chinese Great Guoxue and the Western Studies in the Light of Globalization
Paulos Huang and Thomas Qinghe Xiao
Part 1: Systematic Theology and Chinese Humanities

1 Kant's Attitude toward Luther's Theology from the Principles of Scriptural Exegesis
Qiuling Li, Translated by Ning Qian
2 A Comparison between the Orthodox Idea of "Theosis" and the Notion of "Becoming a Saint" in Chinese Philosophy
Fenglin Xu
Part 2: Practical Theology in Chinese Context

3 The Scarcity of Meaning and the Trend of University Students' Attitude toward Religions: A Survey in Beijing (2011)
Shangyang Sun and Ding Li
4 Urbanization and Church Transformation: Migrant Churches in Beijing
Hao Yuan
Part 3: Church History in China

5 On the Reasons that Christians Supported the Revolution of 1911 Led by Dr. Sun Yat-sen
Jianming Chen and Tao Xiao
6 A Historical Investigation of the Relationship between State and Church in Germany in the 20th Century
Chunjie Lin
Part 4: Biblical and Scriptural Studies

7 The Bible and Construction of Western Literary Theories
Gong Liang
8 How Do Modern Chinese Christian Intellectuals Read the Bible? Wu Leichuan and Zhao Zichen's Principles and Methodologies for the Interpretation of the Bible
Grace Hui Liang
Part 5: Comparative Religious and Cultural Studies

9 A Preliminary Study on the Integration between Confucianism and Christianity: A Clarification and Intermediation between Sin and Goodness in Human Nature
Anwu Lin, Translated by Yen-Yi Lee
10 An Analysis on the Culture Adaptability of Confucianism and Christianity
Xuanyi Zhou
Part 6: A Review and Academic Report

11 Legitimacy and the Formation of Local Christianity
Huang Jiangbo, Translated by Qingxin Jiang
Index